Ooffle is a leading virtual events Singapore management company specializing in video live streaming and production. They provide assistance in your vritual corporate events tailored to your needs. Ooffle blend both digital campaigns and activation to reach your brand's objective. Even if you need live streaming or video production at a greenscreen studio, Ooffle will make your virtual events Singapore happen across Asia.
Asia's most important Furniture, Interiors and Design Fair was held in September at Marina Bay Sands. Ooffle teamed up with FIND to install the exhibition booth. Unique booth composition that bri... Read More→
In 2021, East Point engaged Ooffle to capture a Christmas atmosphere for the most special moment of the year. Instagrammable spot for your moment We decorated the entire wall with Christmas fire... Read More→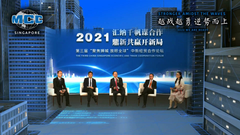 Singaporean real estate developer, MCC, celebrated the opening of their experiential gallery M.SPACO at Poiz Residences, coinciding with their 26th Anniversary. Ooffle had the amazing opportunity t... Read More→
Neon themed party accompanied with Singapore's best city view at the Fullerton Bay Hotel! Ooffle conceptualise, executes and bring your party vision board to life. In this private party, DJ Booth, ... Read More→
Seletar Mall engaged Ooffle to create a Christmas atmosphere through mall decor through overhanging winches decoration after our initial concept and 3D mockups renders. Following their direction, w... Read More→
CONTACT US FOR FREE DEMO!