Ooffle is a leading virtual events Singapore management company specializing in video live streaming and production. They provide assistance in your vritual corporate events tailored to your needs. Ooffle blend both digital campaigns and activation to reach your brand's objective. Even if you need live streaming or video production at a greenscreen studio, Ooffle will make your virtual events Singapore happen across Asia.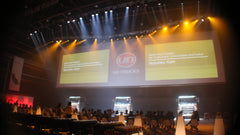 UD Trucks unveiled the All-new Quon, the game-changing Japanese heavy duty truck that aims to pave the way for increased business productivity, safer roads, and Singapore's evolution into a global... Read More→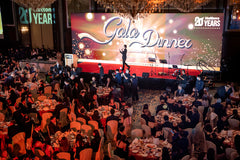 A 1,200 pax live event at Shangri-La Singapore to celebrate Huttons 20 Years! Ooffle managed the entire event from preparation, impressive entrance installation, program planning, set up, talents t... Read More→
Ooffle's extraordinary LED drummers talents on board for the luxury Royal Albatross.  Our talented LED drummers are not just musicians; they're visual storytellers who use their illuminated drums t... Read More→
Prudential held "The Ultimate Office Party" for their employees on a sunny Friday afternoon in November 2019. It was a thoughtful initiative for the company to engage staffs and get them to share o... Read More→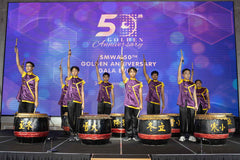 SMWA 50th Anniversary Gala Event was a memorable evening packed with awards giving and wonderful performances such as cultural dance, singer accompanied with pianist and a group of passionate Tangg... Read More→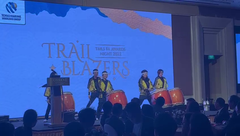 Taiko Drummers were on hand to provide a unique and memorable entertainment experience to Tokio Marine. The Ooffle team brought this amazing performance for everyone to enjoy. The drummers perform... Read More→
CONTACT US FOR FREE DEMO!