Ooffle is a leading virtual events Singapore management company specializing in video live streaming and production. They provide assistance in your vritual corporate events tailored to your needs. Ooffle blend both digital campaigns and activation to reach your brand's objective. Even if you need live streaming or video production at a greenscreen studio, Ooffle will make your virtual events Singapore happen across Asia.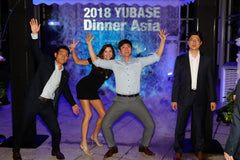 Third time is a charm!  For the third in a row, SK lubricant, a subsidiary of SK Telecom, Korea's largest Telco company engaged Ooffle once again to organise and manage its annual Yubase Dinner fo... Read More→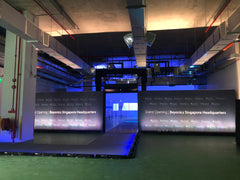 Beyonics opened their new office in Singapore and we were engaged by the organizer to create something impactful and experiential. We installed a state-of-the-art Fog Wall to add dramatic impact to... Read More→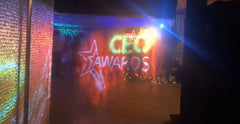 An event agency approached Ooffle to rent our Fog Wall for their client's event at OCBC Centre. We customized a stylish video graphic of the theme of the event – CEO Awards – for the Fog wall. The ... Read More→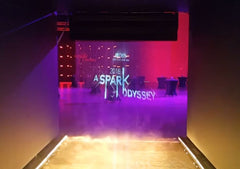 For DBS event, we created a fogwall setup at the end of the tunnel that allows holographic walkthrough by all guests which elevated the bank's branding. It was indeed an instagrammable spot for th... Read More→
For ExxonMobil's high end event which took place at the MBFC, we setup the fog entrance even with the complexities and customized a simple video graphic of their company name for the holographic f... Read More→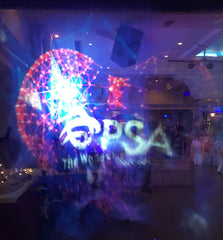 Port Authority of Singapore operates one of the world's largest container transshipment hub and has thousands of employees. PSA rented our interactive Fog Wall for a consecutive of 5 days at Ban He... Read More→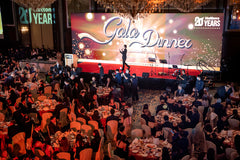 A 1,200 pax live event at Shangri-La Singapore to celebrate Huttons 20 Years! Ooffle managed the entire event from preparation, impressive entrance installation, program planning, set up, talents t... Read More→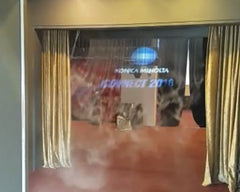 For Konica Minolta's Connect 2018 event, we customized a video graphic of Konica Minolta's company name for their fog wall. The guests were quick to take selfies and wefies to capture this moment o... Read More→
For their Greatest Masquerade dinner in 2018, we setup a fogwall entrance for KPMG using their theme and corporate branding. Instagrammable and intriguing, it was the sure highlight of the entire n... Read More→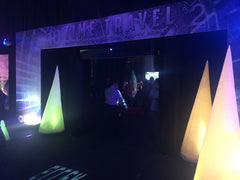 For Land Transport Authority Staff Appreciation Night in 2018 at Marina Bay Sands, we exclusively created a branded fog wall entrance in the theme of Time Traveller. Take a step into the time trave... Read More→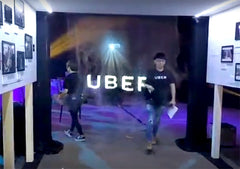 At the launch of UberFlash mobile app in Capella, the Fog Screen Entrance which displayed Comfort and Uber brand added a spectacular factor. The logos and text were literally float in the air. The ... Read More→
Welcome your guests into your event no matter the occasion with a smokescreen entrance display! They will be greeted with a spectacular display of visuals projected upon the smokescreen. It creates... Read More→
CONTACT US FOR FREE DEMO!