Ooffle is a leading virtual events Singapore management company specializing in video live streaming and production. They provide assistance in your vritual corporate events tailored to your needs. Ooffle blend both digital campaigns and activation to reach your brand's objective. Even if you need live streaming or video production at a greenscreen studio, Ooffle will make your virtual events Singapore happen across Asia.
In December 2018, Ascendas engaged our carolers to sing Christmas and modern songs at the office buildings they managed –Plaza 8, Aperia, Galaxis and thebridge @ Ascent. Ooffle was chosen as we hav... Read More→
In December 2018, we were engaged by an agency and was involved in Cold Storage islandwide Christmas activation at all of cold storage key outlets. We gave the shoppers a pleasant festive surprise ... Read More→
It is always a pleasure to be part of a magical wedding. Jason and Hani held their beautiful wedding at The Clifford Pier. Ooffle had the honour to provide them with a two piece acoustic duo for th... Read More→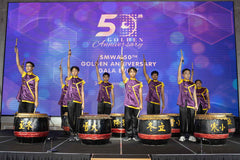 SMWA 50th Anniversary Gala Event was a memorable evening packed with awards giving and wonderful performances such as cultural dance, singer accompanied with pianist and a group of passionate Tangg... Read More→
CONTACT US FOR FREE DEMO!