Ooffle is a leading virtual events Singapore management company specializing in video live streaming and production. They provide assistance in your vritual corporate events tailored to your needs. Ooffle blend both digital campaigns and activation to reach your brand's objective. Even if you need live streaming or video production at a greenscreen studio, Ooffle will make your virtual events Singapore happen across Asia.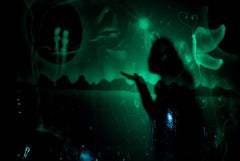 This is an incredible light painting art with outstanding illuminated drawings shown in the dark. Need for a high class product launch? Got a story to tell? Need wow effects? This is surely the mos... Read More→
More Info →
We were engaged to perform a traditional Korean dance for SPO's Final Sprint 2019 at Sheraton Towers Singapore through an esteemed event agency as part of their sales meeting. The SPO sales team wa... Read More→
Standard Chartered Bank celebrated its 2019 CNY with the theme of "Looney New Year - The Remix" and they certainly marked the Chinese aspect by bringing in our Chinese kungfu artists.The kungfu du... Read More→
CONTACT US FOR FREE DEMO!